BIOGRAPHY AND WORKS
Please find attached scores for the 2023 International Music competition in Barcelona under
BIOGRAPHY and WORKS oìin this website
String Quartet can be found at https://davinci-edition.com/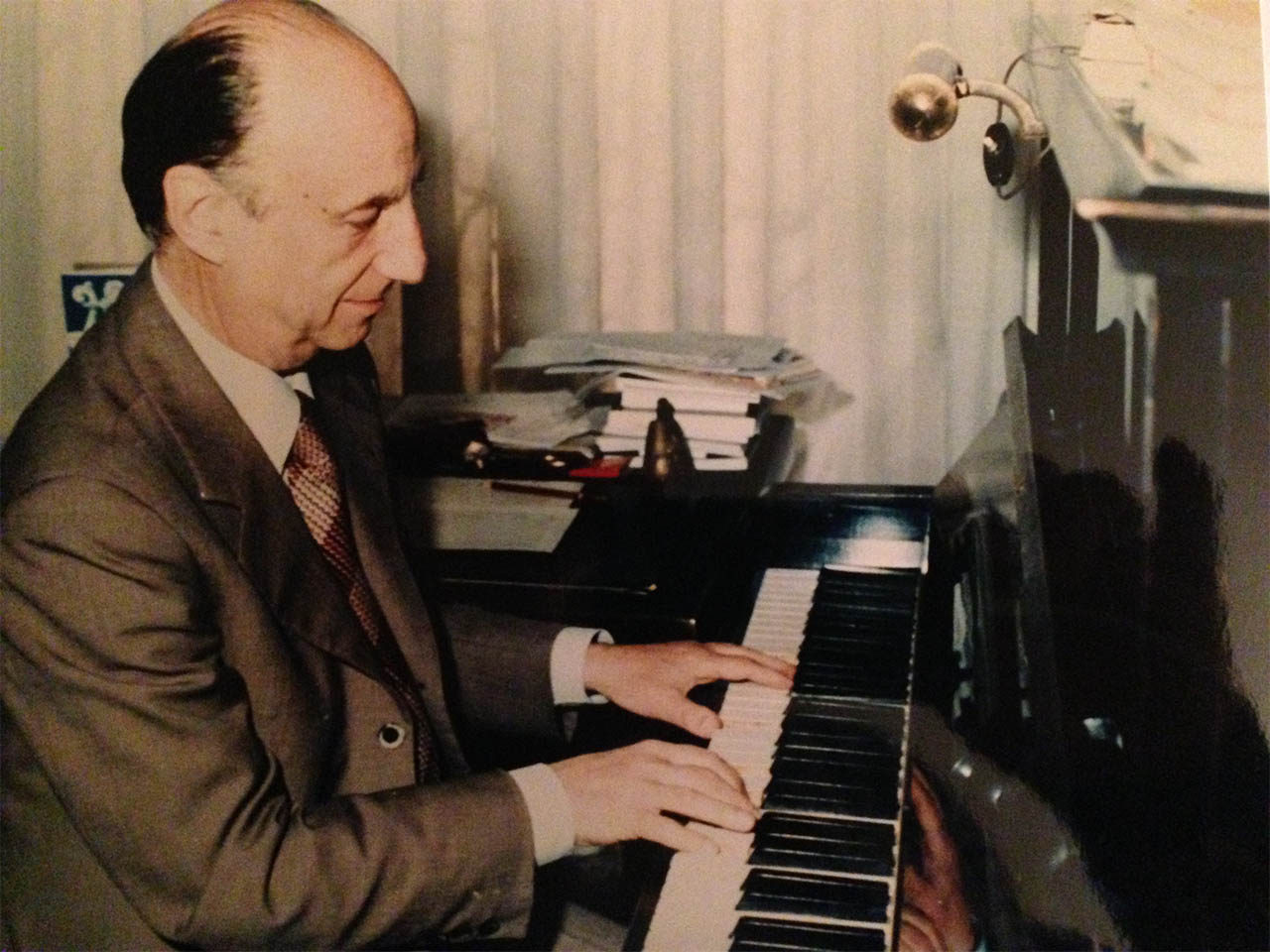 Cambissa Giorgio (1921-1998) was a conductor and graduated in composition.
Headmaster of the Conservatory of Music in Bolzano from 1962 to 1980 and then headmaster of the Conservatory of Music in Rome and member of S.Cecilia's Academy in Rome until 1989. His professors were Hnatiszyn, Levi and Ghedini for composition and Guarnieri, Zecchi, von Karajan and Celibidache for orchestra conducting.
His compositions received awards and special mentions in national and international competitions, including the first prize at the First Competition Queen Elizabeth of Belgium in 1961 for Chamber Orchestra.
He was the President and Artistic Director of the international piano competition Ferruccio Busoni and the President of the Concerts Society in Bolzano for about 20 years. As Conductor he distinguished himself in numerous concerts in collaboration with famous soloists such as pianists Backhaus, Gieseking and Cortot and violinist Grumiaux.
He undertook missions abroad on behalf of the Italian Ministry of Education and in 1964 took part to almost all committees in charge of improving the Conservatory Education System.
In 1975 he was awarded the Gold Medal of the Honorary Members of School, Culture and Art. In 1984 he was elected Member of the Musical Committee "Società Autori ed Editori" (SIAE). In 1985 the President of the Italian Republic Mr. Pertini awarded him with the Honour of Grand Officer of Merit of the Italian Republic.
He was a jury member of several national and international Music competitions.
1995
Wandering for piano and orchestra (35')
World Premiere in Clichy La Garenne - Paris in 2016 at the Giorgio Cambissa International competition,
Auditorium of the Conservatory Léo Delibes, Bel'arte Orchestra, Soloist Rika Zayasu, Conductor Massimiliano Donninelli
1994
Twisting for piano (4')
World Premiere in 1994 - Festival Nuova Consonanza
1991-2
Bizzarria for violin and piano (5')
World Premiere in 1992 – Lipizer International Competition
1990
Segnali for brass quintett (4')
2 trumpets in Bb, horn in F, tenor Trombone and bass trombone
1988
Capriccio for alto, violin and cello (8')
World Premiere in 1989 Catanzaro – Soloists M.Martin, I.Elkman, P.Bucan
1987-8
Concert for alto and orchestra (19')
World Premiere in Rome in 1989, Accademia Nazionale di S.Cecilia,
Soloist A.Ghedin, Conductor B.Aprea
1985
Veneziane, 5 poems for soprano, piano and small orchestra (10')
Soprano, Piano, piccolo with flute, piccolo trumpet in Bb,
4 first violins, 4 second violins, 4 altos, 2 cellos, 1 five-string contrabass.
World Premiere in 1986, Incontri Musicali Orchestra, Soprano Jo Soo Chiomg
(Sumi Jo), Conductor, Giorgio Cambissa
1983
Tento for guitar (5')
World Premiere in 1985 in Rome – Soloist Carfagna
1983
Tre schizzi for piano (5')
World Premiere in Rovereto, Soloist Kiniger
1980
Elegia per flute and piano (5')
World Premiere in Bolzano, Soloists Gazzelloni, Canino
1969
Sette piccoli studi for piano (7')
World Premiere by soloist Fricelli
1966
Tre piccoli studi for flute and oboe (1'57")
Never performed
1966
Tre piccoli studi per flute and clarinet in Bb (4'35")
Never performed
1966
Tre piccoli studi for flute, oboe and clarinet in Bb (2'15")
Never performed
1967-8
Concert N°4 for orchestra "C.Monteverdi" of Cagliari (17')
World Premiere in Cagliari in 1969 Teatro Massimo, Conductor B.Martinotti
1962
Concerto breve for cello and orchestra (16')
World Premiere in Turin in 1965, RAI Symphonic Orchestra,
Soloist L.Lana, Conductor Iwaki
1962
Music for the documentary film "Mantova '61"
1961
Music for the documentary film "Bassa Marea" by G.Albarass
1961
Concert n.3 for chamber orchestra (16')
World Premiere in Bruxelles in 1961, Chamber Orchestra of the Netherlands,
Conductor F.André
1959
Concert n.2 for Orchestra (15')
World Premiere in Florence in 1960, AIDEM Orchestra,
Conductor F.Scaglia
1958
String Quartet (16')
World Premiere in Milan in 1960, RAI, Quartetto of the Scala Theatre
(Minetti,Fantini, Valdinoci, Gusella)
1958
Concert per Trio and Orchestra (22')
World Premiere in Milan in 1961, Scala Theatre,
performed by Trio di Trieste, Conductor A. Cluytens
1957
Concert n.1 for orchestra (20')
World Premiere in Bruxelles in 1957, Symphonic Orchestra, Conductor F.André
1956
Three lyrics for female voice and piano (7')
World Premiere at Radio Trieste, Soloist Mari, Conductor Toffolo
1955
Piccola cantata for soprano, choir and chamber orchestra (18')
World Premiere in Rome in 1961, RAI Symphonic Orchestra and Choir,
Conductor F.Mannino, Soprano Ticinelli, Choirmaster N.Antonellini
1955
Rapsodia greca (12')
World Premiere in Venice in 1960, Orchestra of Teatro La Fenice,
Conductor P.Urbini
1953-4
Fairtale of Sleeping Beauty, ballet and voices (65')
World Premiere in Trieste in 1955, Filarmonica Triestina Orchestra,
Conductor, Giorgio Cambissa
1952
Five pieces for orchestra (18')
World Premiere in Trieste in 1952, Filarmonica Triestina Orchestra,
Conductor, Giorgio Cambissa
1951
Small Concert for 10 instruments (12')
World Premiere in Trieste in 1951, Chamber group of Filarmonica Triestina Orchestra,
Conductor, Giorgio Cambissa
1950
Divertimento for orchestra (15')
World Premiere in 1950 in Trieste, Filarmonica Triestina Orchestra,
Conductor, Giorgio Cambissa
1947
Music for violin and piano (8')
World Premiere in Milan in 1948, Soloists Gulli-Cavallo
1946
Sonatina for 8 instruments (15')
World Premiere in Venice in 1947, Instrumental Group EIAR,
Conductor E.Gracis
1945
Variations and fugue on a theme of Frescobaldi (10')
World Premiere in Trieste in 1945, Filarmonica Triestina Orchestra,
Conductor De Vecchi
unknown
Stabat Mater sequence to two female voices